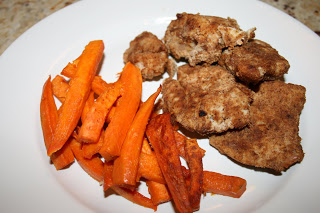 This is a recipe adapted from the Everyday Paleo cookbook by Sarah Fragoso. The book is full of family friendly meals, and this is no exception. The chicken here is very comforting and appeals to young and old alike. I served it with baked sweet potato fries and added a spicy honey ginger mustard dipping sauce, but plain mustard would be great if you are not doing honey. You can also use chicken breasts if you don't have thighs, but watch your cooking time so they don't dry out.
Adapted from Everyday Paleo, Sarah Fragoso.
Breaded Baked Chicken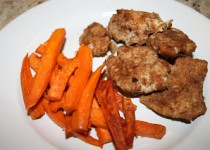 Ingredients:
Preparation:
Preheat oven to 350º F.
Whisk the eggs in a shallow dish. In a separate dish, mix almond meal, coconut flour, garlic powder, paprika, salt, and pepper.
Dip chicken pieces, one at a time, into the egg. Dredge both sides of the chicken in the almond flour mixture.
Place chicken in a single layer in a glass baking dish that has been lightly greased with coconut oil. You may need to use two dishes. Bake for 45 minutes to 1 hour or until the chicken is cooked through.
While chicken is baking, combine mustard, honey, and ginger. Serve chicken with mustard sauce.