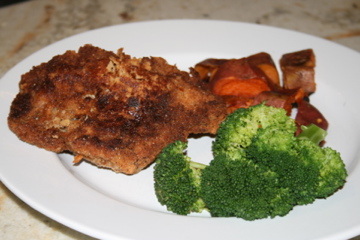 This was a week of Southern cooking in honor of our friend Rob. I have always shied away from deep frying, but thought that fried chicken would be a good addition to the week. Fortunately, Rob agreed! I used a method that uses only 1/3 inch of oil in the pan, so it's really no messier than frying bacon. By finishing the chicken in the oven, the crust remains crispy, but the insides stay nice and moist. Don't let the hot sauce scare you; it adds flavor without adding heat. You can really use whatever type of chicken you like for this recipe. If you use boneless, adjust your cooking time accordingly.
Adapted from www.foodnetwork.com.
Paleo Fried Chicken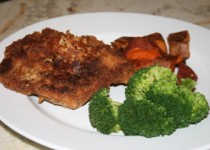 Prep Time:

20 minutes

Cook time:

60 minutes

Yield:

4 servings

Allergens: Nuts
Ingredients:
Preparation:
Preheat oven to 350º F.
Warm enough coconut oil in a large cast iron skillet to cover about 1/3 inch. Using a deep fry thermometer, heat the oil until it reaches 350º F.
While oil heats, combine almond flour and 1 tsp black pepper in a large bowl.
Combine sea salt, garlic powder, and 1/2 tsp black pepper in a small bowl. Use the blend to lightly season both sides of chicken. (You will have leftover seasoning.)
Mix eggs, water, and hot sauce in a medium bowl. One by one, submerse chicken in egg mixture, then dredge in almond flour mixture.
Working in batches, place chicken in oil. Fry on each side for 2 minutes, then transfer to a cooling rack set inside a shallow, rimmed baking pan.
Bake for 30-45 minutes or until the internal temperature of the chicken reaches 165º F.
Serve with your favorite veggie sides. I served with quick steamed broccoli and sweet potatoes I had cooked earlier in the week then sauteed for a couple minutes in coconut oil.