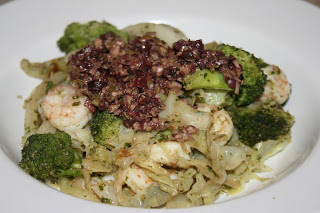 We have gymnastics this afternoon and curriculum night at school, so I need a super-fast meal. This one fits the bill, especially if you have pesto in the freezer, like I do! If you don't, try to find a fresh-made pesto at the supermarket without parmesan and other non-paleo additives or try this easy pesto recipe. The olive tapenade can be made in a hurry and adds great flavor to this simple but yummy meal. If you have it on hand, you can substitute store-bought olive muffalata. I added cabbage to this meal to bulk it up, and because I wanted to use it up. Feel free to add any veggies you have on hand. Enjoy!
Pesto Shrimp and Broccoli with Olive Tapenade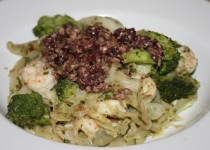 Ingredients:
Preparation:
Make tapenade by pulsing olives, capers, thyme, and garlic in a food processor until just chopped. Add olive oil and pulse 2-3 times to combine. This will make a somewhat chunky tapenade; continue to process if you want yours smoother.
In a large pan, warm 2 Tbsp olive oil or coconut oil. Add cabbage "noodles" and broccoli and stir fry for about 5 minutes or until cabbage wilts. Add 1/2 cup water, reduce heat, and simmer for about 5-10 minutes or until vegetables are crisp tender and water boils down.
In the meantime, in a large skillet, add 1 Tbsp olive or coconut oil and stir fry shrimp for about 3 minutes or until cooked through. Add shrimp and pesto to broccoli mixture, stirring well to combine.
To serve, divide pesto shrimp evenly among 3-4 shallow bowls. Top with tapenade.