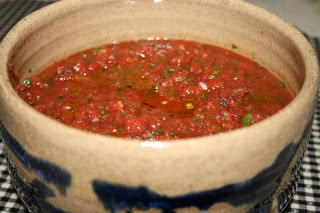 This is a quick and easy salsa great for paleo tacos, vegetable dip, salad dressing, or served with spicy almond dippers. It makes enough salsa to last for several meals.
Adapted from foodnetwork.com.
Simple Salsa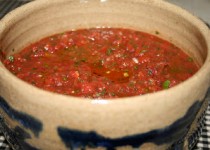 Prep Time:

15 minutes

Yield:

about 4 cups
Ingredients:
Preparation:
Place onion, chile, and garlic in bowl of food processor. Pulse several times until finely chopped.
Add tomatoes and lime juice and pulse several times to combine. Season with salt and pepper.
Add reserved tomato juice, if needed, to thin the salsa. Pulse to combine.
Transfer to serving bowl, drizzle salsa with olive oil, cover with plastic wrap, and let sit for 1 hour for flavors to combine.