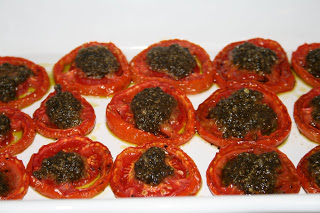 This recipe was easy, delicious, and a great use for an abundance of fresh tomatoes. You can really use any type of tomato here, they don't have to be perfect. Just allow yourself enough time. The flavor really comes out when the tomatoes are well-roasted.  I topped mine with pesto I had in the freezer, but you can purchase fresh pesto at many supermarkets, just make sure the ingredient list is clean. It is also very easy to whip up your own basil walnut pesto. If you are using frozen pesto, warm it up and add a little olive oil until it gets to the consistency you like. Scale this recipe up or down. I made extra to have with my eggs in the morning. Very tasty!
Adapted from foodandwine.com.
Slow-Roasted Pesto Tomatoes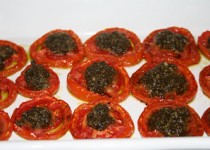 Ingredients:
Preparation:
Preheat oven to 275º F.
Arrange tomato slices on a large, rimmed baking sheet. Season with salt and pepper.
Spoon a small amount of pesto in the center of each slice.
Bake for 90 minutes, until the tomatoes are very tender. Serve hot or warm.