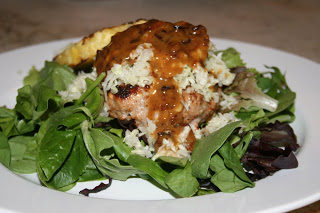 My parents joined us for dinner tonight and my dad loves a good burger! I've been wanting to try this recipe for a while and just got some ground pork from Wallace Farms last weekend so I could give it a go. Well, my dad loved it! The flavor of this burger is inspired by Carolina pulled pork. The bacon adds some smoke while serving as a replacement for the crisp bits of roasted pork. In traditional South Carolina style, this burger is topped with a delicious honey mustard sauce. The sauce can be made a day ahead and stored in the refrigerator overnight. Get ready, this is a good one!
Adapted from Food and Wine Cookbook, 2004.
South Carolina BBQ Pork Burgers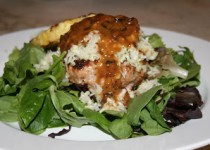 Ingredients:
Preparation:
In a small saucepan over medium heat, cook half of the bacon and the entire chopped onion in 1 Tbsp of melted butter until the onion turns light brown, 5-6 minutes. Add honey, mustard, and vinegar, stirring to combine. Reduce heat to medium-low and simmer until sauce is thickened and slightly reduced, about 5 minutes. Season with salt and pepper. Remove from heat and keep warm.
In the meantime, in a medium skillet over medium heat, cook the remaining bacon until crisp. Transfer to paper towels to drain. Set aside to cool.
Preheat grill to medium high.
Combine paprika, onion powder, garlic powder, celery seed, 1 tsp salt, and 1 tsp pepper in a small bowl.
Place pork in a medium bowl. Add cooled bacon and liquid smoke.  Use your hands to gently combine, without compacting too much. Form the meat into 6 patties and set them on a plate lined with plastic wrap. Sprinkle the spice mixture over both sides of the patties, pressing gently with your fingers to help the spices adhere. Brush each patty with a little bit of the remaining melted butter.
Grill burgers for about 6 minutes on each side or until just cooked through.
To serve, divide the salad greens evenly among plates, top with a burger. Spoon cabbage on top of each burger and drizzle generously with honey mustard.