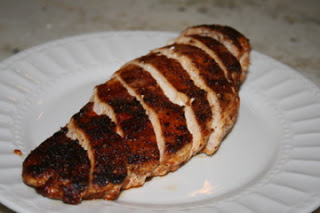 What do you do when you are eating solo? That's where I was tonight. I checked out the ingredients I had on hand and used up some of my prepared ingredients to put together this quick meal. I like to keep a supply of blackening spice mix on hand in an old spice jar for nights like tonight. All I had to do is sprinkle it on my chicken and cook it. If you have any leftover spice mix, save it in your spice drawer for an easy meal option–or double the recipe listed here. It's great on chicken, fish, and pork. The recipe here is for four servings, but is easily scaleable to any amount.
Blackened Chicken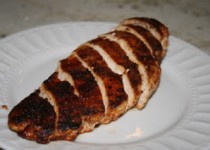 Prep Time:

10 minutes

Cook time:

15 minutes

Yield:

4 servings
Ingredients:
Preparation:
Preheat oven to 400º F.
Mix spices together.
Dredge chicken in spices.
Melt fat of choice in a large skillet over medium-high heat.
Saute chicken for 3 minutes on each side.
Transfer to a shallow pan and finish cooking in oven for 5 to 10 minutes or until cooked through.