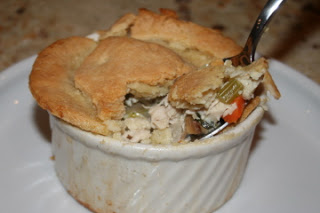 Tonight, I am in the mood for crusty, savory comfort food. What would be more satisfying than chicken pot pie with a flaky almond flour crust? This is a great cold-weather meal and a big accomplishment for me because Aly, my toughest critic and the pickiest of my little eaters, actually ate the whole thing without much fuss at all! Be sure to use a super-fine blanched almond flour for the best results. You can fill 4-6 ramekins with this recipe, but it's really only enough food to satisfy four people for dinner.
Adapted from comfybelly.com.
Chicken Pot Pies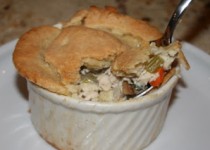 You may add a little bit of arrowroot powder to thicken the filling.
Ingredients:
Preparation:
Preheat oven to 375º F.
Warm coconut oil in a medium saucepan over medium heat. Add celery, carrots, onion, mushrooms, and thyme and saute for 5-10 minutes or until tender.
Add chicken and chicken stock and bring to a boil. Reduce heat, remove one cup of chicken stock and add coconut milk. Simmer for 5 minutes to allow the flavors to blend.
To make crust, add flour, butter, egg, and salt in bowl of a food processor, pulse until a soft dough forms. Transfer to a sheet of parchment and use your hands for form a ball. Top with another sheet of parchment, press down, and use a rolling pin to form dough to a 1/4-inch thick layer. Use a biscuit cutter, cookie cutter, knife, or jar lid to cut the crust to the appropriate size circles to fit your ramekins.
Divide chicken mixture evenly among ramekins. Place crust on top of chicken mixture and press into sides.
Place ramekins on a large, rimmed baking sheet.
Bake for 15 minutes or until the crust is lightly browned.
NOTE: Pot pies and burnt tongues go hand-in-hand. Especially if you are serving children, be sure to insert a spoon through the crust to let the filling cool down a little bit before eating.