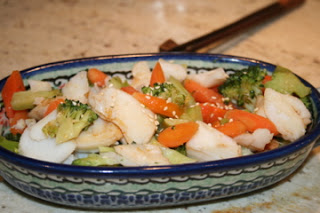 I love Chinese food and since it is one of the foods our children will actually eat, I was excited when I came across this recipe for an easy sauce. You never really know what's in the sauce when you order takeout. This sauce is quick and tasty and can be used with shrimp, fish, or chicken. With the help of a double bamboo steamer, you can have this meal prepped and cooked in about 20 minutes. If you are really pressed for time or don't have the ingredients on hand, find a Chinese restaurant that will customize your meals. Order just steamed vegetables and fish or shrimp with no sauce or oil. Then you can pick it up on the way home and add your own sauce. Enjoy!
Adapted from paleohealing.wordpress.com.
Chinese Takeout-Style Fish and Vegetables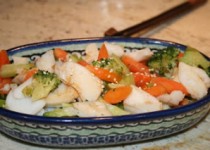 Prep Time:

10 minutes

Cook time:

10 minutes

Yield:

2 servings

Allergens: Fish
Ingredients:
Preparation:
Make sauce by combining all ingredients in a small bowl and stirring with a whisk. Set aside.
Set a bamboo steamer basket in a large skillet filled with about one inch of water.
Bring water to a boil.
Place broccoli and carrots in the bottom rack. Steam over medium heat for 5 minutes.
Add fish on top rack and continue to steam for 5-7 more minutes or until fish flakes easily with a fork and vegetables are crisp-tender.
Transfer to a bowl and drizzle with sauce. Toss gently to coat. Transfer to individual serving bowls garnish with sesame seeds, and serve with additional coconut aminos, if desired.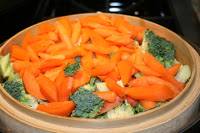 Layer broccoli and carrots in the bottom.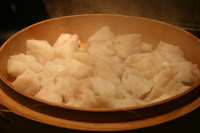 Place fish in the top steamer tray.