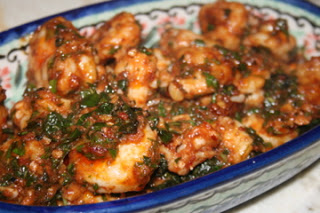 This is a great recipe–quick and easy. Just a little bit of chopping–definitely quick enough for a weeknight. The original recipe calls for Sriracha sauce, but I substituted pureed chipotle peppers. I left all of the seeds in and was a little concerned it would be super spicy. Instead, it had just the right amount of kick for me, Dave, and Alex. If you don't like any spice, remove the seeds from the chipotle peppers prior to pureeing them. I just whipped mine up in our Magic Bullet, but you could also use a blender or food processor. I served this with a cucumber salad, but it would also go well with sauteed kale or cauliflower rice.


Adapted from www.bonappetit.com.
Chipotle Buttered Shrimp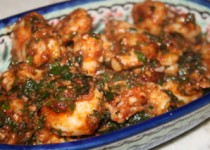 Prep Time:

15 minutes

Cook time:

10 minutes

Yield:

3-4 servings

Allergens: Shellfish
Ingredients:
Preparation:
In a medium skillet over medium heat, melt butter. Add olive oil and chipotle puree; stir with a whisk to combine.
Add minced garlic and saute for 1-2 minutes.
Add shrimp, toss in chipotle butter and cook for about 3 minutes on each side or until opaque.
Stir in lemon juice, mint, and basil.