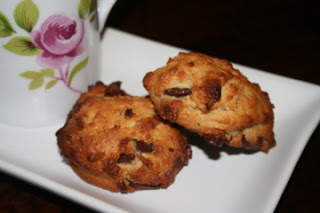 Josh is home with a fever today so I am taking the opportunity to do a little baking. I like to offer gluten-free after-school snacks to the kids when they get home–plus, it's a good excuse for me to try new recipes. This is a treat was easy to make, the batter is yummy, and the whole family gave it two big thumbs up. Aly, thankfully, had quite a few. Otherwise, I may have eaten them all myself! If you are not a fan of chocolate, try berries, nuts, or chopped dried fruit instead. Be sure to use finely ground blanched almond flour for this recipe, as almond meal will not have the same results.
Adapted from The Gluten-Free Almond Flour Cookbook by Elana Amsterdam.
Chocolate Chip Scones (Almond Flour)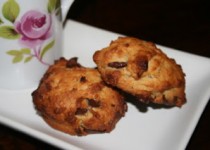 Quickly bring eggs to room temperature by placing them in a bowl of warm water for about 5 minutes.
Ingredients:
Preparation:
Preheat oven to 350º F.
Line two large baking sheets with parchment paper.
In a large bowl, combine almond flour, salt, and baking soda. In another bowl, whisk together coconut oil, honey, eggs, and vanilla.
Stir wet ingredients into dry ingredients and mix with a wooden spoon until well combined. Fold in chocolate.
Drop batter in scant 1/4 cupfuls (I used a large cookie scoop), two inches apart on the parchment-lined baking sheets.
Bake for 12-17 minutes, until golden brown and a toothpick inserted into the middle comes out clean.
Let the scones cool for 30 minutes on the baking sheets.
Serve with a cup of tea or coffee for a special treat. Or share with your children, if you must...