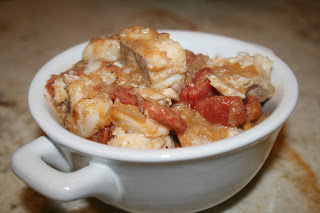 Looking for a quick and easy curry made from scratch? Here it is! I was in the mood for a fish curry and came across this great recipe. I made only minor modifications to the original on steamykitchen.com, which also has some awesome photos. I did not include the fresh peppers and it still had a nice kick, but if you really want some heat, go ahead and put them in. Enjoy!
Adapted from steamykitchen.com.


Coconut Curry Fish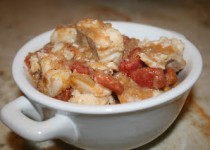 Prep Time:

15 minutes

Cook time:

20 minutes

Yield:

4 servings

Allergens: Fish
Ingredients:
Preparation:
Rinse the fish with water and pat dry with paper towels. Cut into 1-inch chunks.
Place onion, ginger, and garlic in a food processor and process until finely chopped.
Warm coconut oil in a large skillet over medium heat. Add onion mixture and reduce heat to medium low. Saute, stirring frequently, until very fragrant and lightly browned, about 5 minutes. Do not burn.
Add garam masala, cayenne, salt, and pepper and saute for 1 minute, stirring well to integrate the spices.
Add tomatoes and saute for another 3 minutes, stirring frequently. Use your spatula to break up the tomato pieces.
Increase the heat to medium high. Add coconut milk and water. Bring to a boil, then add fish and continue to boil for 4 minutes or just until fish is cooked through. Serve over curried cauliflower.