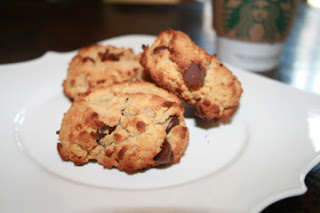 After several requests for an adaptation of the chocolate chip scone recipe I posted recently, I did a little research and came up with this version that uses coconut flour instead of almond flour. I like baking with both types of flour, but almond flour offers a more neutral taste and moist texture. I love coconut, so this scone recipe fills the bill on so many levels. The flavor is delicious, with some coconutty undertones. I could have probably made 14 scones, but since I ate about one scones worth of batter from the bowl, I ended up with 12 large scones. They are a little less moist than their almond flour counterparts, but nothing that a little smear of grass-fed butter or fruit spread can't take care of. Enjoy this nut-free treat with coffee or tea. And feel free to replace the chocolate chips with fresh or dried fruit. Enjoy!
Adapted from healthymontreal.ca.
Chocolate Chip Scones (Coconut Flour)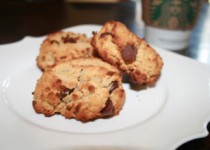 Quickly bring eggs to room temperature by placing them in a bowl of warm water for about 5 minutes.
Prep Time:

20 minutes

Cook time:

20 minutes

Yield:

12 large drop scones

Allergens: Eggs
Ingredients:
Preparation:
Preheat oven to 350º F.
Prepare a large, rimmed baking sheet by lightly coating with coconut oil.
In a medium bowl, sift together dry ingredients, stirring with a fork or whisk to combine.
Combine honey, vanilla, and coconut oil in a large bowl.
NOTE: I recently purchased a Cuisinart immersion blender with a whisk attachment. I used the electric whisk for this recipe and it worked out great. You could use a hand mixer or a lot of muscle to make this happen, too.
Add eggs, one at a time, mixing after each addition.
Pour dry ingredients into wet and combine. (I used my electric whisk here, too.)
Let batter sit for 5 minutes to see how much liquid the coconut flour absorbs, then add coconut milk, 1 Tbsp at a time, until the dough is moist but not overly wet. I added 1 Tbsp, but will add 2 next time.
Use a cookie scoop or spoon to drop two-inch mounds of batter on the baking sheet, about 1 inch apart.
Bake for 20 minutes or until lightly toasted on top and a toothpick comes out clean.
Let cool in the pan for 5 minutes, then transfer to a cooling rack to cool completely.
Place scones about one inch apart.