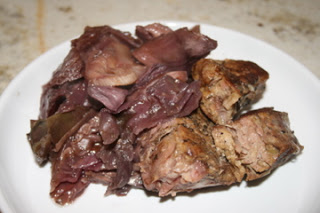 I love the simplicity of pot roast in the crock pot. I was in the mood to branch out a bit and try something a little different, yet still very simple and quick. I had planned to use 1/2 cup coconut aminos, but after I got started, I realized that I ran out after pouring just 1/8 cup. I compensated by adding 1/4 cup of coconut vinegar. If you have coconut aminos, you can definitely use 1/2 cup and skip the coconut vinegar. The results of this recipe are really good, but the flavor is a bit unexpected. I'd love to hear your feedback on this one!
Adapted from www.nytimes.com.
Crock Pot Beef Roast and Cabbage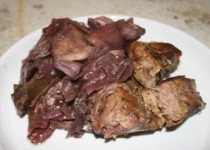 *The 1/4 cup coconut aminos and 1/4 cup coconut vinegar can be replaced with a total of 1/2 cup coconut aminos.
Prep Time:

20 minutes

Cook time:

08h 00min

Yield:

3-4 servings
Ingredients:
Preparation:
Combine water, aminos, vinegar, ginger, garlic, and anise in a medium bowl. Set aside.
Warm coconut oil in a large, deep skillet over medium high heat.
Season both sides of roast generously with salt and pepper.
Place roast in the skillet and brown, without moving the roast, for 5 minutes or until a nice crust forms.
Use tongs to flip the roast and continue to brown for about 5 more minutes.
Layer cabbage on the bottom of the crock pot.
Place roast on top and then scatter leeks over the roast.
Pour aminos mixture over the top.
Cook for 8 hours on low or until roast is tender.