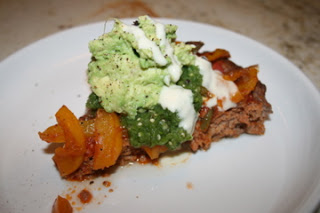 I was excited to find a resource for great fresh chorizo this week, so I ordered a pound. I really wanted to do the yummy, spicy sausage justice…but really, how can you go wrong with chorizo? Well, I decided to create a Mexican-style pizza, complete with tomatillo salsa and paleo sour cream. The base is quite easy to create. Because chorizo is pretty well spiced on its own, I didn't have to add much to it. I topped it with a sauteed medley of peppers and onion, but you can get creative with your toppings or just include whatever you need to use up in your refrigerator. The green salsa is awesome with this, but you can used an all-natural jarred salsa to save time.
Mexican Meatza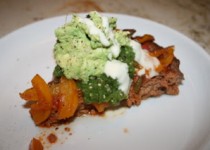 This recipe uses paleo sour cream and green salsa.
Prep Time:

30 minutes

Cook time:

30 minutes

Yield:

6 slices
Ingredients:
Crust
grassfed ground beef -

1 pound

fresh chorizo sausage -

1 pound

pastured eggs -

1

Seasonings
sea salt -

1 tsp

smoked paprika -

1 tsp

onion powder -

1/2 tsp

garlic powder -

1/2 tsp

ground cayenne pepper -

1/4 tsp

ground cumin -

1/4 tsp

Toppings
yellow bell pepper -

2, , seeded, cored, and sliced lengthwise into thin strips

green bell pepper -

2, , seeded, cored, and sliced lengthwise into thin strips

onion -

1 medium, 2, , sliced lengthwise into thin strips

jalapeno pepper -

1, seeded and diced

garlic cloves -

1 tsp

all natural jarred tomato sauce -

1/4 cup

Garnish
avocado -
Preparation:
Preheat oven to 450º F.
Combine seasonings in a small bowl.
Prepare vegetables.
Warm oil in a large cast iron or other oven-proof skillet over medium-high heat. Saute peppers and onions for 5 minutes or until they just begin to soften. Add 2 tsp seasoning mix and continue to saute until vegetables are tender, about 5-10 more minutes. Add garlic during the last 5 minutes of cook time.
While vegetables cook, place beef, sausage, and egg in a large mixing bowl. Use your hands to thoroughly combine.
Transfer meat mixture to skillet and press down to form a deep-dish style meatza crust. Place in oven and cook for 10 minutes.
Remove skillet from oven and pour off any grease. Pat the top of the crust with a paper towel to absorb any residue.
Set oven to broil.
Top crust with tomato sauce, then veggie mixture, and other toppings of your choice.
Place meatza under broiler for about 3-5 minutes.
Remove from oven and let sit for 2 minutes. Cut into wedges and enjoy!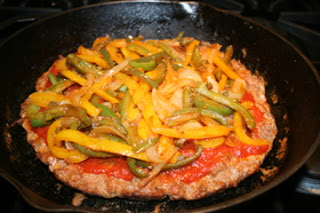 Baked meatza crust topped with sauce and peppers.