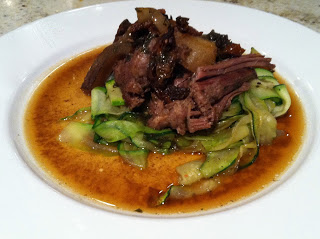 I'm always looking for new ways to prepare pot roast in the crock pot. I pulled this from one of my old recipe books. Just 15 minutes of preparation in the morning resulted in a delicious, tender roast. The 8 hour cook time left the beef very tender with just a little pink when I cut into it. I served this on top of sauteed zucchini ribbons, using the sauce to flavor the zucchini.
NOTE: Forgive the photo, my camera gave out on me after I took the picture of the ingredients in the crock pot so I had to use my phone for the final shot.
Adapted from Healthy Crockery Cookery, Mable Hoffman.
Pot Roast with Basil, Tomato, and Pine Nuts on Zucchini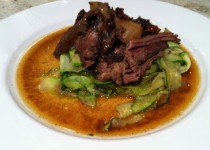 Ingredients
1/3 cup dry-pack sun-dried tomatoes
Prep Time:

15 minutes

Cook time:

08h 00min

Yield:

4 servings
Ingredients:
Preparation:
Place tomatoes and garlic in a small bowl. Pour water over them and let stand for 5 minutes.
Warm oil in a large skillet. Place roast in the skillet and brown for about 5 minutes on each side; just long enough to develop a nice crust.
Transfer roast to crock pot. Top with onion, basil, salt, and pepper. Pour tomato mixture over the top.
Cover and cook on low for 8 hours or until roast is tender.
Just before roast is ready, prepare the zucchini by shaving one side with a peeler (I use one like this OXO Y-peeler) or mandoline (like this OXO slicer). Discard (or compost) the outer layer and continue shaving long, thin strips until you reach the seedy core. Flip the zucchini and repeat the process on the opposite side. When you reach the center, repeat the same process on either side until all you have left is the core. Save the core to chop up and mix in with your eggs in the morning.
Heat 1 Tbsp oil in a large skillet. Add zucchini ribbons and saute for about 5 minutes or until tender. Season with salt and pepper.
To serve, divide zucchini noodles evenly among plates, then divide meat evenly and place on top. Spoon tomato mixture and broth over everything and sprinkle with pine nuts. Enjoy!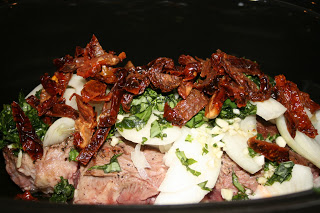 Layer ingredients in the crock pot, set it to low, and enjoy your day!