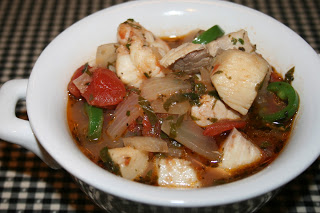 In an attempt to clean out some miscellaneous seafood I had in the freezer, I decided to make seafood chowder. Since I was out for a couple of hours this evening, I did all of my chopping in advance so that when I got home, it only took me about 10-15 minutes to make dinner. This chowder had a great flavor and the jalapeno adds just the right amount of subtle heat. You could definitely serve this over cauliflower rice, but we just had it straight up. Enjoy!
Adapted from simplyrecipes.com.
Seafood Chowder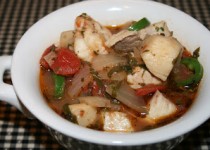 *I wanted some heat so I left some of the seeds in. For a milder chowder, remove all of the seeds or leave the pepper out altogether.
Ingredients:
Preparation:
Heat oil in a heavy saucepan or deep skillet. Add onions, celery, and garlic and saute for 5 minutes.
Add parsley, tomatoes, and tomato paste and cook for 2 minutes.
Add clam juice and broth and bring to a simmer over low or medium-low heat.
Increase heat to medium, add seafood, and simmer for 5 more minutes or until seafood is cooked through.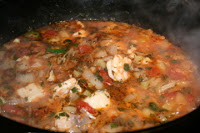 Simmer seafood for 5 minutes
or until cooked through.