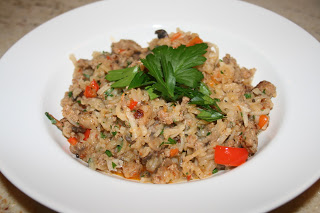 Risotto is always a nice winter treat, and this paleo version using shredded turnips as the base is so much quicker than using traditional risotto. The addition of sausage, red pepper, and mushroom makes it a complete meal. If you don't have a grater/shredder feature on your food processor, try a mandoline or hand grater. Enjoy!
Turnip Risotto with Sausage, Red Pepper, and Mushrooms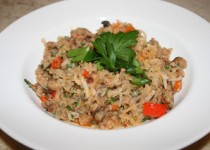 Prep Time:

20 minutes

Cook time:

15 minutes

Yield:

3-4 servings
Ingredients:
Preparation:
Melt butter in a large stockpot over medium heat.
Add turnip and toss to coat. Add chicken broth and bring to a boil. Cook for 10-15 minutes at a rapid boil, stirring occasionally.
In the meantime, brown sausage in a large cast-iron skillet over medium heat. When the sausage just starts to brown, add mushrooms, onion, and pepper. Cook another 5-10 minutes or until everything is cooked through. Drain oil and most of the broth (leave in about 1/2 cup or so).
Mix turnips into sausage mixture. Stir in parsley and season with salt and pepper. Garnish with additional parsley, if desired.