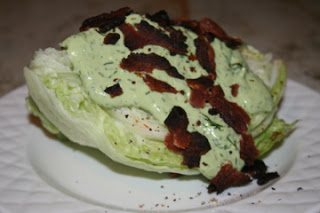 I've been craving a wedge salad lately. You know the one: a big wedge of iceberg lettuce smothered in blue cheese dressing. Well, I decided to make it paleo by swapping out the blue cheese dressing with an avocado ranch. The bacon adds a nice finishing touch. This salad is great with any protein—steak, chicken, fish. You will have leftover dressing to enjoy throughout the week. It is versatile enough for a veggie dip or to put on top of a burger.
Wedge Salad with Avocado Ranch Dressing
Prep Time:

30 minutes

Yield:

4 servings

Allergens: Eggs
Ingredients:
Preparation:
Place dill and garlic in a food processor. Pulse until finely chopped.
Add mayonnaise, coconut milk, avocado, and vinegar. Process until smooth.
Season with salt and pepper, then pulse again to combine.
To serve, place one wedge on each salad plate. Ladle a generous amount of dressing over the top. Sprinkle with bacon.