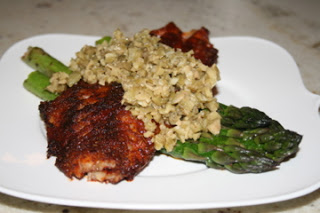 I recently did a big pantry clean out and found an abundance of olives hidden away in a back corner. In an attempt to work my way through my olive stash, I decided to make a tapenade–one of my favorite uses for olives, and SO easy to whip up! I then had to decide what to make with it. This blackened fish was a great choice to balance the saltiness of the olives. I used my favorite blackening spice recipe for the fish. You can easily scale down this recipe and save the leftover spice blend for another use. It's great on chicken, fish, shrimp, pork…anything, really! I served the fish over a bed of asparagus, but it would also be great over steamed spinach. Enjoy!
Blackened Fish With Asparagus and Olive Tapenade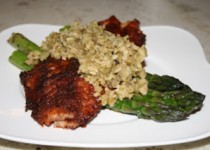 Prep Time:

20 minutes

Cook time:

15 minutes

Yield:

4 servings

Allergens: Fish
Ingredients:
Preparation:
Preheat oven to 400º F.
Make tapenade by pulsing olives, capers, thyme, and garlic in a food processor until just chopped. Add olive oil and pulse 2-3 times to combine. This will make a somewhat chunky tapenade; continue to process if you want yours smoother.
Mix blackening spices together in a small bowl.
Dredge fish in spices.
Preheat a large skillet and melt coconut oil over medium high heat.
Saute fish for 1 - 2 minutes per side.
Transfer fish to a shallow pan and finish cooking in oven for 5 - 10 minutes or until fish flakes easily with fork.
While fish is in the oven, wipe out skillet, add 1 Tbsp coconut oil or olive oil and warm over medium heat. Add asparagus and saute for 2-3 minutes or until it just begins to brown. Add 2 Tbsp water and cover. Continue to steam asparagus until crisp tender, about 3-4 more minutes. Season with salt and pepper.
To serve, divide asparagus among plates, top crosswise with fish, then spoon tapenade over the fish.