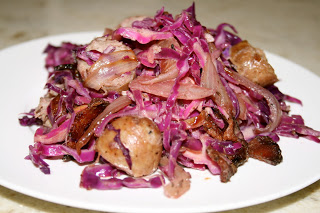 I recently ordered bratwurst from Wallace Farms, the first I've eaten since beginning our paleo journey more than a year ago. It is SO hard to find a good brat without a lot of additives. This one is great with an ingredient list comprised simply of pork, water, and seasonings. The down side is that evaporated cane juice powder is on the short list of seasonings, but I'm still willing to indulge on occasion. In lieu of a gut-busting hunk of bun to detract from the pleasure of my brat, I opted to make a brat salad. I've got to say that this salad was awesome! I used red cabbage because I had it on hand, but green would work just as well. I will definitely be making this one again! Enjoy!
Bratwurst Salad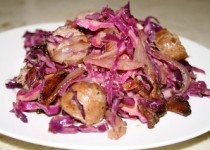 Prep Time:

20 minutes

Cook time:

25-30 minutes

Yield:

4 servings
Ingredients:
Preparation:
Fill a medium saucepan about 3/4 of the way with water and bring to a rolling boil over medium-high heat.
Reduce heat to medium and place brats in water; boil for 10 minutes. Remove from heat and use tongs to transfer brats to a plate.
Preheat grill to medium high. Grill brats until browned on all sides and cooked through, about 10 more minutes. Remove from heat, cool slightly, and cut into 1/2-inch slices.
NOTE: You can also finish cooking the brats in a large skillet on the stovetop.
While brats cook, saute bacon in a large, deep skillet or stock pot until just crisp, about 10 minutes. Remove bacon from pan. Carefully drain all but 2 Tbsp bacon fat from pan.
Add garlic and onion and saute for 5-10 minutes over medium heat or until onion turns translucent, being careful not to burn the garlic.
Add cabbage and chicken stock and stir to combine. Cover and steam for an additional 5 minutes or until cabbage is just wilted.
Add seasonings and mustard. Toss gently to coat.
Add brat slices to cabbage mixture and stir gently to combine.
To serve, divide evenly among plates or shallow bowls. Garnish with bacon pieces.