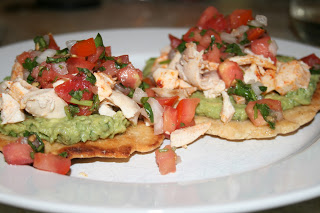 I've really been enjoying hanging out on the front porch with Dave in the early evening while the kids play outside. The weather has been beautiful and we've enjoyed kicking back a little bit to enjoy our summer. Typically, early evening is my prime dinner prep time, so I've been making simpler meals or things I can prep in advance. I have also been taking advantage of some prepared fresh ingredients from the grocery store. This recipe uses rotisserie chicken and fresh salsa from the salad bar. My favorite is from Sunset Foods—it's more of a pico de gallo made of diced tomatoes, onion, and cilantro. Sunset's rotisserie Amish chickens are a great shortcut, simply seasoned with just paprika. I made a fast guacamole but you could also purchase it fresh from the salad bar. The tostada shells are easy to make and come together quickly at meal time. If  you want to prepare them in advance, just fry them up and refresh them in the skillet over medium heat just before eating. Leftovers can be warmed the same way. I warmed the chicken mixture for dinner, but it was just as good cold at lunch the next day.
Chicken and Avocado Tostadas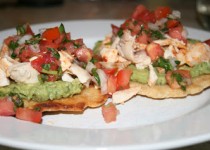 Prep Time:

20 minutes

Cook time:

10 minutes

Yield:

4-6 servings

Allergens: Nuts
Ingredients:
Preparation:
Combine avocados, juice of 1 lime, and cilantro in a medium bowl. Season with salt and pepper.
Combine chicken, juice of 1/2 lime, and smoked paprika in a medium bowl. Stir to combine. Just before eating, warm mixture in the microwave at 60 percent heat for about 60-90 seconds, if desired. (It is also good left cold.)
Prepare tostada shells by combining almond flour, sea salt, and cayenne in a medium bowl. Add eggs and 1 tsp olive oil and mix thoroughly with a spoon until a nice dough forms. If it seems dry, keep stirring for a bit. If needed, add just a touch of water.
Divide the dough into 6 equal portions. Roll each piece into a ball. One at a time, place each dough ball between two sheets of parchment paper and press wth the palm of your hand to form 1/4- to 1/8-inch thick circles.
Warm 2 Tbsp olive oil in a large skillet. Fry each tostada in the hot oil for about 30-40 seconds on each side. Transfer to a double layer of paper towels to drain.
To serve, place 1-2 tostadas on each plate, spread with avocado mixture, then top with chopped chicken. Garnish liberally with salsa.