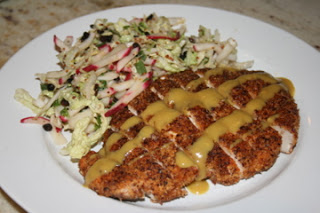 I recently joined a buying group called Azure Standard. The group offers some unbelievable prices on a wide variety of items that can be either cost prohibitive or impossible to find at the store. I saw hazelnut flour listed and decided to give it a go. Instead of letting it sit in the pantry, I decided to encrust some chicken for an easy dinner. I made a honey mustard sauce to go with it, but if you want to avoid honey, just use a paleo-friendly mustard or barbecue sauce.
Hazelnut Crusted Chicken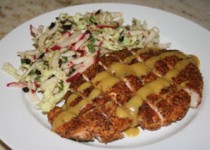 Ingredients:
Preparation:
Preheat oven to 400º F.
Combine hazelnut meal, salt, paprika, mustard, and peppers in a medium bowl.
Place egg whites in another medium bowl.
Heat olive oil in a large skillet over medium heat.
Dip chicken in egg whites, then dredge with flour mixture.
Place in skillet and cook for 2 minutes on each side, adding more oil, if needed.
Transfer to baking sheet and finish in the oven for 10-15 more minutes or until cooked through.
While chicken cooks, prepare sauce by combining mustard and honey.
To serve, plate chicken, drizzle with honey, and serve with shredded Napa cabbage and radish salad or your favorite veggie side.