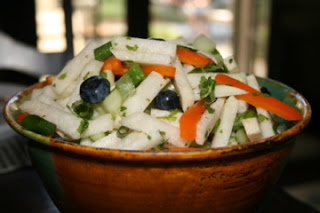 I made this salad on Father's Day after visiting with my parent and sampling the salad that my mom had made. It was so delicious, light, and refreshing that I  happily accepted her offering of ingredients to go home and make my own batch. This recipe involves a little chopping, but it comes together pretty quickly anyway. It originally calls for sliced red onion, but I forgot to get the onion from my mom so I subbed with the green onion I had on hand. Feel free to use whatever form of onion you have. I rarely eat jicama, but this salad makes me want to have it more often. We had the salad with grilled lobster but it would be a complete meal on its own with some chilled shrimp or chicken tossed in. The leftovers stayed fresh for several days in the refrigerator.
Adapted from a Naturipe Farms recipe.
Jicama Blueberry Salad
Prep Time:

15 minutes

Yield:

4-6 servings
Ingredients:
Preparation:
Combine jicama, blueberries, red pepper, cucumber, green onion, and cilantro in a large salad bowl.
Whisk together lime juice and sea salt in a small bowl. Drizzle over vegetables.
Toss to combine.