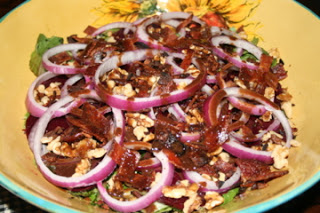 I had lunch with my friend Lindsey today and as we were chatting food, she shared one of her favorite salad recipes with me. I was happy to be able to make it right away with ingredients I had already prepped–bonus! Beets are in season and I am always looking for ways to integrate them into our meals. This salad is easy and delicious! It was even easier for me tonight because Alex made it while I got the rest of our dinner ready. Look at that presentation—nice!
Lindsey's Beet Salad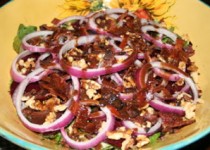 This recipe uses paleo mayonnaise.
Ingredients:
Preparation:
Layer ingredients, beets through bacon, in a large salad bowl. Season with salt and pepper.
Combine vinegar and mayonnaise in a small bowl, stirring with a whisk to combine.
Drizzle salad with dressing. Toss just prior to serving.