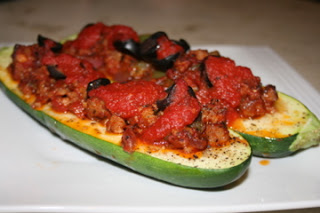 I am always looking for new ways to capture the pizza experience paleo style, so when I came across a photo of a pizzuchini, I was immediately on board. This recipe is versatile–feel free to substitute your favorite pizza toppings. These are also more filling than they look. You can definitely get 4 servings from this recipe. If you have really big zucchinis, you will only need two. I cut up the leftovers and had them with eggs for breakfast. Yum! Adapted from dashingdish.com.
Pizzucchini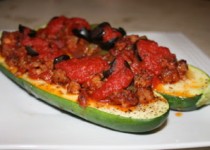 Prep Time:

20 minutes

Cook time:

50-60 minutes

Yield:

4 servings
Ingredients:
Preparation:
Preheat oven to 400º F.
Brown sausage in a large skillet over medium heat. Drain all but about 1 Tbsp fat.
Add onion, peppers, and garlic. Saute until onion turns translucent, about 7 minutes.
Add 1 cup tomato sauce and basil. Stir to combine.
While preparing sauce, halve zucchinis lengthwise and use a spoon to scoop out the seeds. Place zucchini boats on a large, rimmed baking sheet. If the zucchini doesn't lie flat, cut a thin piece off of the bottom to allow it to lie flat.
Fill zucchini boats with sausage mixture. Sprinkle with black olives and drizzle with remaining tomato sauce.
Bake for 20-30 minutes or until zucchini is tender.