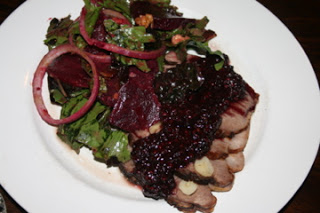 I was inspired to make this recipe by my friend Grant, a cordon bleu chef. I was feeling culinarily uninspired one day at CrossFit Freedom and Grant, even on what he claimed to be one of his most uninspired days, came up with this suggestion. I jumped on it, of course, because who wouldn't? And it was even easier to embrace since I had a lamb roast in the freezer waiting to be eaten. This recipe takes very little effort. Use a meat thermometer when cooking the lamb. Mine ended up taking about two hours. I decided to cook it in the morning when I had some time, then prepare the sauce before serving. The sauce is also very easy to make. Use only enough honey to take away the tartness of the berries. You don't need much after adding the balsamic. Thinly slice the leftover lamb and toss it with some veggies for lunch the next day. We had this with Lindsey's Beet Salad. Enjoy!
Adapted from tasteofpace.com.
Roasted Lamb with Blackberry Sauce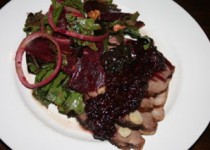 Prep Time:

20 minutes

Cook time:

02h 00min

Yield:

6 servings
Ingredients:
Preparation:
Lamb
Preheat oven to 350º F.
Warm vinegar in a small saucepan over medium heat. Bring to a low boil and continue to boil until reduced to about 2 Tbsp, about 5 minutes.
Use a small, sharp knife to make 10 slits randomly across the top of the roast. Insert a garlic clove in each slit.
Rub olive oil over the roast and season with salt and pepper.
Drizzle the roast with balsamic glaze.
Insert rosemary sprigs into trussing.
Quarter the onion (you can leave the skin on since it's just for flavor) and arrange around the roast.
Roast for approximately 12 minutes per pound; mine took a bit longer. Internal temperature should read 145 for rare, 155 for medium, and 165 for well done. Remove the lamb from the oven 10 degrees before your goal temperature and let it rest for 10 minutes to finish cooking. This helps to keep the juices from running out when you slice the lamb.
While the lamb roasts, prepare the sauce.
Sauce
Place blackberries in a medium saucepan over medium-low heat. Cook for about 5 minutes or until berries become quite juicy.
Add balsamic vinegar, reduce heat to low, and continue to simmer for 10 minutes, stirring occasionally and breaking up berries with a spoon or fork.
Add honey, to taste, and mint and stir to combine, continuing to break up the berries with a fork.
To serve, thinly slice lamb, fan out on a plate, and spoon blackberry sauce over the top.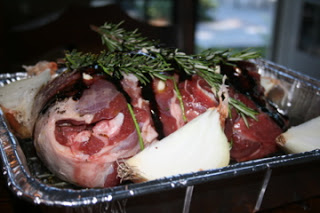 *I use silicone bands to truss my meat. So easy!