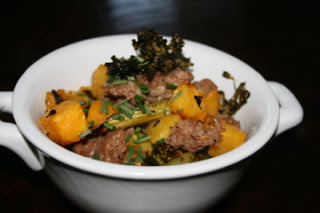 It's cool enough out to cook tonight and beautiful enough not to want to. Problem solved with this low-effort meal. Everything cooks concurrently so even though you use a couple of pans, everything is done at the same time. I used oregano and chives from my garden, but feel free to substitute with what you have on hand. A sprinkling of dried herbs would work, too. I used pre-diced butternut squash from the produce section to move things along even more quickly.
Sausage and Butternut Squash Hash
Prep Time:

15 minutes

Cook time:

50 minutes

Yield:

3-4 servings
Ingredients:
Preparation:
Preheat oven to 425º F.
Warm coconut oil in a large, rimmed baking sheet in the oven until melted.
Carefully remove the pan and add squash, broccoli, and seasonings. Toss gently to coat.
Bake for 45 minutes or until squash and broccoli are tender.
While veggies cook, saute sausage in a large skillet over medium heat. Cook for about 15 minutes or until cooked through. Drain fat, if necessary.
Remove cooked veggies from oven, discard oregano, and add to sausage. Saute for 1-2 minutes more, stirring gently to combine.
Serve in shallow bowls garnished with chives, if desired.