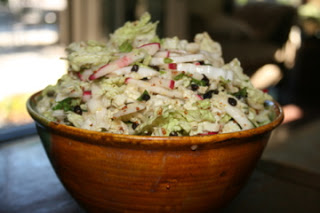 This recipe made perfect use of the beautiful head of Napa cabbage and locally grown radishes in my CSA box this week. When a recipe calls for raisins, I almost always substitute currants. The are tiny little balls of sweetness that give just the right amount of flavor, plus they don't get smushy—but that's my issue.

If you prefer raisins, go for it. I made this salad first, then made the rest of our meal. That was just enough time for it to marinade. The leftovers got a little soggy the next day so enjoy it right away if you can.


Adapted from marthastewart.com.
Shredded Napa Cabbage and Radish Salad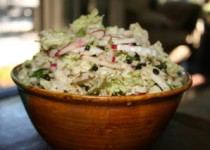 This recipe uses paleo mayonnaise.
Prep Time:

15 minutes

Yield:

4 servings

Allergens: Eggs
Ingredients:
Preparation:
Combine cabbage, radish, onion, and currants in a large bowl.
Whisk together vinegar, mustard, mayonnaise, and honey in a small bowl. Pour it over the cabbage mixture and toss to combine.
Season with salt and pepper.