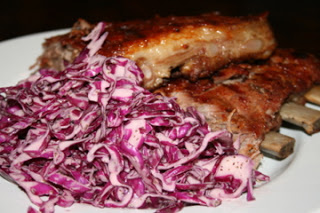 This is the cole slaw I make when I need a quick side dish or burger topping. It goes especially well with ribs or on pulled pork, turkey, or chicken. I like to make this slaw the night before I need it so that the cabbage is wilted and flavors are well integrated. The celery seeds add a nice touch, so try not to skip them. I use a mandoline to slice the cabbage. I have also used a food processor, but it got a little too finely chopped for my liking. You coud also use a sharp knife. Scale this recipe up for an easy party side dish or in half for burger topping. Enjoy!
Simple Cole Slaw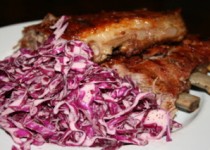 This recipe uses paleo mayonnaise.
Prep Time:

15-20 minutes

Yield:

4-6 servings

Allergens: Eggs
Ingredients:
Preparation:
Whisk mayonnaise, vinegar, and celery seeds in a large bowl. Season with salt and pepper.
Add cabbage; toss gently to coat.
Cover bowl and chill until ready to use.
NOTE: Slaw can be made up to a day in advance.