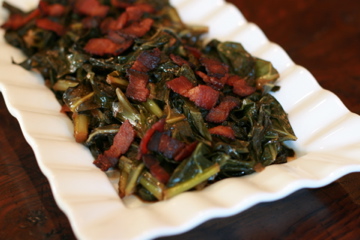 The first time I had collard greens was in Charleston, South Carolina. We were at a little diner and collards were offered as a side option, right next to the french fries. Well, I made the smart choice and was introduced to a delicious dish very similar to this one. I received collard greens in my organics delivery last week so here goes. We enjoyed this with andouille sausage–be sure to check the label to make sure it is paleo friendly. Enjoy this spicy little treat!
Adapted from foodnetwork.com.
Southern Collard Greens and Andouille Sausage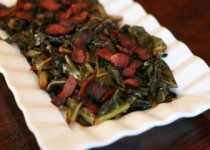 Prep Time:

20 minutes

Cook time:

01h 15min

Yield:

4 servings
Ingredients:
Preparation:
Remove tough stems from collard greens, then cut into two-inch ribbons by stacking several leaves, rolling them, then cutting them crosswise. Repeat until all leaves are cut.
In a large, deep skillet or a stock pot, add bacon and saute over medium-high heat until crispy, about 5-10 minutes. Transfer bacon onto a paper towel to drain.
Remove all but about 2 Tbsp bacon fat from skillet. Add onion and saute until translucent, about 5 minutes.
Add crushed red pepper, black pepper, and collards. Saute over medium heat until collards wilt, stirring every 2-3 minutes—about 10 minutes total. Add 1 cup chicken stock and water, stir, then cover and simmer for 30-45 minutes.
Remove the lid. If all of the liquid has boiled down, add remaining 1/4 cup of chicken stock and stir. Increase the heat to high, and add vinegar and hot sauce. Stir and let flavors blend for 1-2 minutes.
While collards cook, prepare sausage according to package directions.
To serve, transfer the mixture to a bowl or divide among individual plates. Sprinkle with bacon and serve with additional hot sauce, if desired. Serve with sliced sausages.