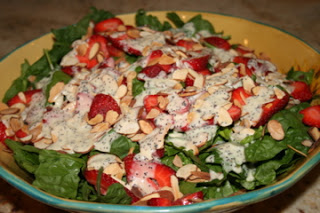 Spinach and strawberries are in season, and what better way to use them than in a delicious paleo version of a classic strawberry salad? It is quick to put together and my version of the poppyseed dressing makes the salad what it is. Feel free to substitute the spinach for salad greens. Enjoy!
Strawberry Salad with Poppyseed Dressing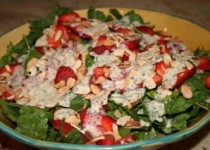 This recipe uses paleo mayonnaise.
Ingredients:
Preparation:
Combine honey, mayonnaise, coconut milk, vinegar, and poppy seeds in a small bowl. Whisk to combine. Refrigerate until ready to use.
Place spinach in a large salad bowl. Top with strawberries and almonds. Drizzle with dressing.
Toss just before serving.