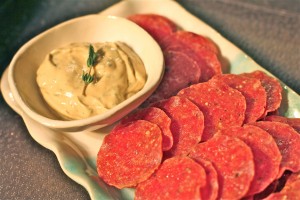 This is a quick and easy party recipe. I like to keep some salami in the refrigerator for a quick snack when friends drop by. The crispy chips taste great—they go fast so don't be afraid to bring extras! The thinly sliced salami crisps up nicely. Be sure to use a nitrate-free brand, such as Applegate Farms, for the best results. I have also used their pepperoni. It still tastes great but the chips are larger. If you make a double batch of chips, you don't need to double the mustard dip, just the chips—there is plenty of dip to go around. Give this recipe a try and let me know what you think!
Adapted from realsimple.com.
Crispy Salami Chips with Thyme Mustard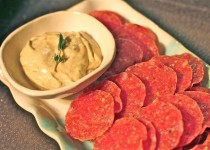 Prep Time:

5 minutes

Cook time:

15 minutes
Ingredients:
Preparation:
Preheat oven to 375ºF.
Arrange salami in a single layer on a rimmed baking sheet.
Bake for 12-15 minutes or until crisp.
Using tongs, remove from pan and place on paper towels or a cooling rack to cool and drain.
While salami cooks, combine mustard and thyme in a small bowl.
To serve, arrange salami slices around mustard dip.