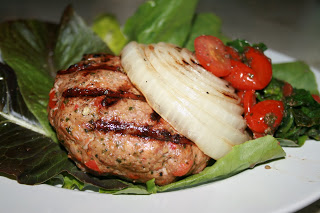 This week, I put my huge yield of basil to use and made a big batch of basil walnut pesto. It is great for so many uses and can be easily frozen for the future. This recipe uses just 4 Tbsp of pesto, so if you make a big batch, use it as a salad dressing, mix it in with shrimp, marinade chicken, or toss it with your eggs in the morning. It is SO versatile! This burger incorporates pesto in both the turkey and the spinach tomato topping. It has a great flavor and, once the pesto is done, comes together quickly. Enjoy!
Turkey Pesto Burgers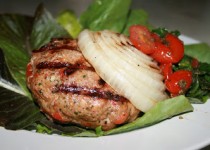 This recipe uses basil walnut pesto.
Prep Time:

20-30 minutes

Cook time:

10 minutes

Yield:

6 burgers

Allergens: Nuts
Ingredients:
Preparation:
In a large bowl, 

use your hands or a large spoon to thoroughly 

combine ground turkey and turkey sausage.
Place sun-dried tomatoes, red pepper, and shallot in a food processor and pulse until finely chopped. Add to turkey mixture.
Add pesto to turkey and mix all ingredients well with your hands to combine. Season with salt and pepper.
Form into 6 patties and refrigerate until ready to grill.
Preheat grill to medium.
Cut the onion into 1/2-inch slices. Drizzle with olive oil. Grill for approximately 6 minutes on each side.
Grill burgers for approximately 5 minutes on each side or until cooked through.
While food cooks, add 1 Tbsp olive oil to a large skillet. Add tomatoes and saute for 3 minutes. Add spinach, in batches, until wilted but still bright green. Add pesto and stir to combine. Season with salt and pepper.
To serve, place several lettuce leaves on a plate. Top with one burger, one onion slice, and some of the spinach mixture. Repeat for all burgers. Serve immediately.