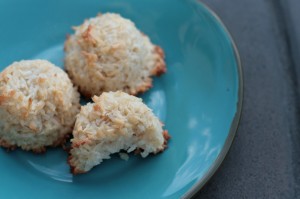 I recently bought a paleo-friendly coconut macaroon at a local health food store…just to see what it was all about. It was honey-sweetened, which is great; however, it was SO sweet that I couldn't take more than a bite. Pretty bad! It was even too sweet for my kids. Yuk.
After searching through several paleo recipes, I decided to give the recipe in Make It Paleo a try. I have been happy with all of the Make It Paleo baked goods recipes I've tried so far. Bill and Haley sweeten with maple syrup due to a family honey allergy. My kids actually prefer maple syrup over honey, so I used it here as well. Keep an eye on your macaroons near the end of the baking time to ensure they don't burn.
Aly, my toughest critic, gave these a big thumbs up…and so do I! Easy and delicious. Enjoy!
Adapted from Make It Paleo, Bill Staley and Hayley Mason.
Coconut Macaroons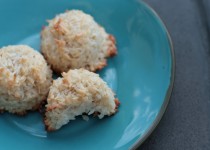 Prep Time:

20 minutes

Cook time:

20 minutes

Yield:

about 20 one-inch cookies
Ingredients:
Preparation:
Preheat oven to 350° F.
Line two baking sheets with parchment paper.
Cut vanilla bean lengthwise and press open. Using a sharp knife, scrape vanilla beans into a large bowl. Add maple syrup and whisk together. Stir in coconut and mix well.
Place egg whites in a second large bowl. Use a hand mixer to beat the egg whites until stiff peaks form.
Gently fold egg whites into coconut mixture.
Use a small scoop or spoon to scoop small balls of batter onto the baking sheets.
NOTE: I love this cookie scoop. It makes perfect macaroons!
Cookie Dough Scoop with Push Button (Purple)
Bake for 15-20 minutes, checking the macaroons frequently near the end of baking time to ensure the coconut doesn't burn.
Let cool for one minute on the baking sheet and then use a spatula to transfer to a wire cooling rack until completely cooled.
Store in an airtight container at room temperature for up to five days. Place parchment or wax paper between the layers. If storing in a resealable plastic storage bag, be sure to get as much air out as possible before sealing.