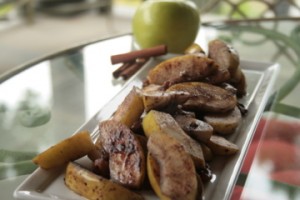 Whenever my kids are given the choice of fruit or vegetable with dinner, they predictably choose the fruit option. This dish is a sweet treat that tastes great with pork, sausage, or any cabbage dish. Leaving the skin on the apples helps them to hold their shape. Have all of your ingredients measured and ready for to go. This dish comes together quickly and is best eaten right away. But don't toss the leftovers! They're great rewarmed in a pan and mixed with a little additional coconut milk or paleo-friendly ice cream for dessert!
Fried Apples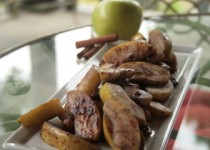 I like to eat these as a sweet treat with some extra coconut milk.
Prep Time:

5 minutes

Cook time:

10 minutes

Yield:

4 servings
Ingredients:
Preparation:
Warm coconut oil in a large skillet over medium heat.
Add the apples and sauté for about 5 minutes or until the apples start to soften, stirring occasionally.
Add the walnuts, if using, and cook for 2‐3 more minutes.
Sprinkle with cinnamon, mix well, then add the coconut milk. Stir gently to combine and continue to sauté until just warm, about one minute.
Serve immediately.