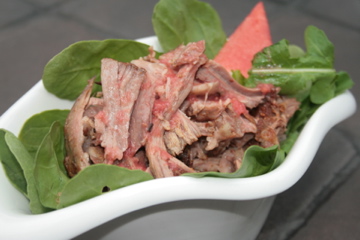 This recipe is inspired by a dish I saw on the show Man vs Food. The pulled lamb sounded SO good that I had to give it a go. The watermelon vinegar is easy to make and is a great flavor enhancer. Served on a nice bed of arugula, this meal is easy and delicious. Just be sure to allow enough time for the lamb to smoke so that it can be easily pulled apart. Low and slow is the key here—although the lamb is a more tender cut than pork so it doesn't take quite as long to get it to where you want it to be. I was able to pick up a four-pound lamb shoulder roast at our local grocery store. Just asked your butcher if it is not a cut that is usually in the meat case.
Smoked Pulled Lamb with Watermelon Balsamic Vinegar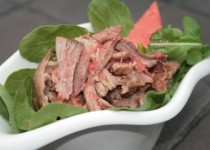 Prep Time:

08h 20min

Cook time:

06h 40min

Yield:

4 servings
Ingredients:
Preparation:
Combine all rub ingredients, except for olive oil, in the bowl of a food processor and process until smooth. Add olive oil while processor is running and continue to process until a paste forms.
Arrange two long pieces of plastic wrap in a t-shape on a flat work surface. Place lamb on the top layer where the two pieces intersect.
Cover all sides of the lamb with the rub, then wrap the lamb tightly by folding the ends of the plastic securely over the lamb. Refrigerate overnight.
Remove the lamb from the refrigerator, unwrap it, and let it come to room temperature. Place lamb in a deep foil pan. Place rosemary sprigs in the pan.
Prepare the smoker to 215º F (keep it in the 200 – 235º F range). Place pork in the smoker with the fat side up. Cook for 1.5 hours per pound. Wrap the lamb tightly in foil half way through the smoking time. Cook until the internal temperature reaches 180 – 190º F.  (Ours took about 6.5 hours to smoke.) Keep the lamb wrapped and let it sit at room temperature for 1 hour.
Use your hands to pull the pork and remove any fat and bones.
While the lamb cooks, prepare vinegar by pureeing the watermelon in a food processor and adding vinegar in a slow stream to combine.
To serve, divide arugula evenly among four bowls or plates. Top with pulled lamb and drizzle with watermelon balsamic vinaigrette.