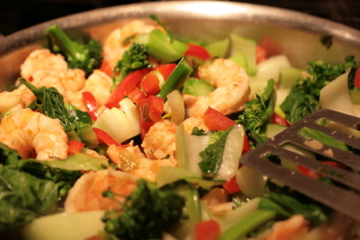 I received baby bok choy in my organics box this week and decided to make a simple stir fry by adding shrimp and Asian seasonings. To clean the bok choy, tear all of the leaves off and washed them individually. The original recipe calls for cutting the head vertically, but I'm not sure if I would have gotten all of the dirt off that way. Separating the individual leaves ensured that I removed all of the dirt.
Adapted from www.rachaelraymag.com.
Spicy Shrimp and Bok Choy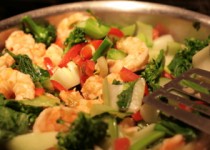 If you don't have access to bok choy, you can substitute napa, green, or red cabbage. You can also use regular broccoli for the broccolette. This was great served over cauliflower rice.
Prep Time:

15 minutes

Cook time:

10 minutes

Yield:

2 servings
Ingredients:
Preparation:
Combine coconut aminos, sesame oil, and vinegar in a small bowl.
Cut cauliflower into large chunks. Pulse in a food processor until it is a rice-like consistency.
NOTE: It's better to leave a couple of larger pieces than to pulse it into cauliflower grits.
Transfer cauliflower to a medium microwaveable bowl and cover it with a plate. Cook for 2-4 minutes on high or until the cauliflower is softened. Set a side and rewarm for a few minutes, if necessary, when the shrimp is done.
Fill a large, shallow pan with about two inches of water and bring to a boil. Add bok choy leaves and cook for one minute. Drain and rinse with cold water. Set aside.
In the same pan, warm coconut oil over medium heat. Add sweet red pepper, broccolette, garlic, and onions and saute for about 3 minutes or until tender, being careful not to burn the garlic.
Stir in aminos mixture, crushed red pepper, and shrimp. Cook for about 2 minutes or until shrimp is opaque.
Stir in bok choy and stir until heated through, about 2 more minutes. Serve with cauliflower rice.