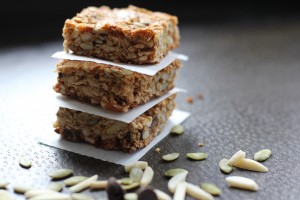 With CrossFit Regionals fully underway, you athletes may be looking for a great snack that is easy to take on the go. Well, here it is! This bar is the closest I've come to making a crunchy paleo granola bar. The texture is kind of a cross between a crunchy and chewy granola bar. This recipe contains pure whey protein from grass-fed cows, which is not paleo but a product that many CrossFitters include in their diet anyway. We use the Dr. Mercola brand, which contains only pure whey. You can substitute almond flour for the protein if you'd like. You can also used flavored protein powder, but that introduces other additives, so I stay with the unflavored. The mix-ins are optional. Leave them out for a cleaner bar, add them in for a treat. The chocolate chips taste really good though! I'd love to hear your feedback on this one. Enjoy!
I also want to give a shout out to CrossFit Freedom, CrossFit Carbon, and CrossFit VisOne. Looking forward to a great showing at North Central Regionals this weekend! Best of luck to you! I'll be there Friday morning cheering and hanging out around the WODHOPPER booth. Stop by and say hello!
Adapted from www.thepaleomom.com.
Paleo Protein Bars
Ingredients:
Preparation:
Preheat oven to 325º F.
Prepare a 9x13 baking dish by lightly coating it with coconut oil.
Combine flax meal and water in a small bowl and set aside.
Place flax mixture, coconut oil, almond butter, honey, egg, and vanilla in a large bowl. Use a fork or whisk to combine.
In another large bowl, combine almonds, coconut, sunflower seeds, pepitas, sesame seeds, cinnamon, baking soda, sea salt, and protein powder.
Transfer dry mixture into the large bowl with the wet ingredients. Stir thoroughly with a spoon until well combined. The mixture will be somewhat dry. Take your time with it to make sure everything is well mixed.
Fold chocolate chips or dried fruit in to batter, if desired.
Press mixture firmly into the baking dish. (Mixture will be sticky.)
Bake for 20-25 minutes or until the top is lightly browned. Remove from oven and press top down with a spatula or your hands to remove any puffiness.
Cool in the pan on a cooling rack, then transfer the dish to the refrigerator to cool completely.
NOTE: Bars do not hold together well if you try to cut them before cooling.
Cut into 28 bars and wrap individually in plastic, parchment, or waxed paper, if desired. Store in the refrigerator for a grab-and-go snack.