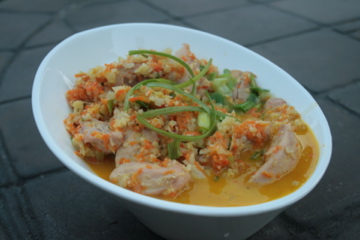 This was a tasty dish that came together quickly and all in one pan. Since Dave and Alex are my cleanup crew, they really appreciate meals like this! I used to spend a lot of time trimming boneless, skinless chicken thighs. They just seem to need it compared to chicken breasts. But I was in a hurry tonight so I just chopped it all up with just a super-quick trim of the biggest chunks of fat. It turned out perfectly and really sped things along. My food processor also did a lot of the chopping for me. Make sure if you are shredding by hand that the carrot shreds are small enough to cook during the same amount of time required by the carrots. The jalapeno is a nice addition and really didn't add too much heat, even with the seeds. Enjoy!
Coconut Ginger Chicken and Rice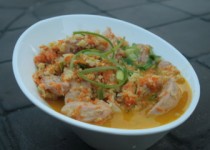 Ingredients:
Preparation:
Cut chicken into bite-sized pieces.
Warm coconut oil in a large skillet over medium high heat. Add chicken and saute for about 5 minutes or until browned on both sides.
Add jalapeno and ginger and saute 1 minute.
Add coconut milk and chicken stock. Stir in cauliflower and carrots. Reduce heat to medium, cover and braise for 10 minutes. Uncover, increase the heat to high, and cooked until liquid is almost evaporated, chicken is cooked through, and vegetables are tender.
Remove from heat and stir in green onions.
To serve, spoon chicken mixture into shallow bowls or plates. Top with sliced green onions, if desired.