I saw a recipe recently that used zucchini as a ravioli wrapper. The idea intrigued me and made me wonder how much effort would be involved in putting this meal together. I chose to make my version for a Sunday dinner, since I usually like hanging in the kitchen on Sunday afternoons. It is important to use zucchini that are not too big so that they are not seedy at the core. It took a little while for me to figure out how to cut the long slices without having them crack. I had the most luck using my mandoline held at an angle. I decided I do need to update my mandoline though, since I couldn't get my slices as thin as I wanted. As a result, I ended up steaming my zucchini in the microwave for a couple of minutes prior to stuffing them. With the quantities below, I ended up with some extra filling. You can either make extra ravioli with it or add it to your eggs in the morning, like I did. Yum!
Inspired by cupcakesomg.blogspot.com.
Pesto Sausage Ravioli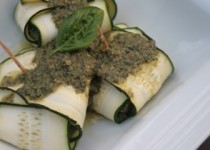 Ingredients:
Preparation:
Slice zucchini in half lengthwise. Using a mandoline, thinly slice zucchini into long planks.
In a large skillet, add sausage and cook over medium-high heat until some fat is rendered. If you have really lean sausage, add 1-2 tsp olive oil. Add shallot and garlic and continue to cook until sausage is cooked through, about 10 minutes. Add spinach, a handful at a time, stir to combine, and cook until spinach is wilted and tender.
While sausage cooks, steam cauliflower in a steamer insert set in a pan of boiling water. It should be ready at the same time the sausage mixture is ready.
Preheat oven to 350 degrees F.
Let filling ingredients cool slightly. Transfer cauliflower to the bowl of a food processor, add butter and process until smooth. Season with salt and pepper.
Add sausage and spinach mixture to food processor and process until it reaches your desired filling consistency. (I like mine smooth.)
 Place zucchini on zucchini plank vertically on a work surface. Place another plank horizontally in the center, forming a "t."
Scoop about 1 tsp of filling into the center where the two planks overlap, then fold the ends of the bottom plank over each other. Next, fold thee ends of the top plank so that you form a little square packet--or ravioli! Use a toothpick to hold it closed. Repeat with remaining zucchini and filling.
NOTE: I had extra filling. You can either use more zucchini or use the extra filling for another meal.
Place ravioli on a large, rimmed baking sheet. Bake for 15 minutes or until zucchini is tender.
Transfer ravioli to a shallow dish or plate and drizzle with pesto.