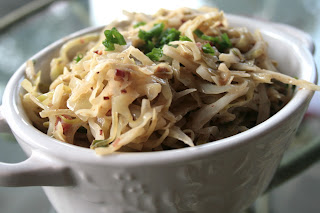 Dave and I went to a French restaurant last weekend that had some very tasty food. When I saw Warm Cabbage Salad on the menu, my first thought was that is sounded more German than French. Then I thought that is sounded like an excellent paleo option. Well, both of my thoughts were valid. It was definitely a German-tasting dish, it was quite paleo, and it was delicious! Here's my version. I used the finest shredding attachment on my food processor so that it would cook more quickly. I also baked my bacon in advance and shredded the cabbage the night before so that when I was time to cook, it was ready quickly. I used chives for this, but you could use green onions instead. We had this with some awesome grilled bratwurst from Wallace Farms, but you could substitute any sausage. Enjoy!
Warm Cabbage Salad with Bratwurst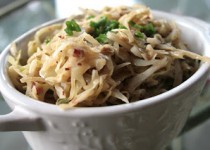 Ingredients:
Preparation:
Cook bratwurst using your favorite method.
While bratwurst cooks, melt bacon fat in a large skillet.
Add cabbage and dressing and saute until wilted, about 5 minutes.
Stir in bacon and chives.