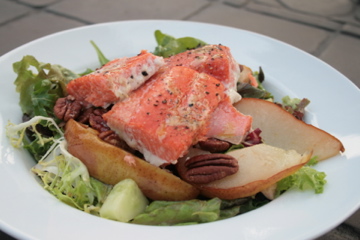 This recipe is a great example of adaptation in the kitchen. I was all ready to make a warm peach  and salmon salad. But as luck would have it, my peaches weren't ripe enough to grill so I went with pears. It was pretty easy to put this one together. Make the vinaigrette first. The salmon and pears grill at the same time and you can prepare the salad within the 10 minutes everything is on the grill. Neither the salmon or the pears need to be turned so it's pretty hands off. The flavors work really well together. Enjoy!
Warm Pear and Salmon Salad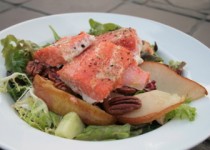 You can find the dressing recipe here: Lemon Pepper Vinaigrette
Prep Time:

30 minutes

Cook time:

30 minutes

Yield:

4
Ingredients:
Preparation:
Combine salad greens, cucumber, green onions, and avocado in a large bowl.
Season salmon with salt and pepper.
Place pear slices in a bowl and drizzle with 1 Tbsp olive oil.
Heat grill to medium. Grill salmon and pears for 10 minutes at about 300 degrees. I used two separate grill pans to grill them alongside each other. (Well, let's say Dave grilled them in the grill pans. He is the grill master, after all.)
Toss salad greens with about 1/2 of dressing. Transfer to individual salad bowls.
Divide pears and pecans evenly among salads and arrange on top.
Remove salmon from skin and divide it among bowls.
Drizzle with additional dressing.