Now here is a birthday cake that everyone loves—paleo or not. Sweetened with a bit of  honey, this cake is quite easy to make, is nut free, and tastes delicious. It is also very moist! The first time I made it was for my husband's birthday. All of his work pals came over to sing a very entertaining version of the happy birthday song. (It was painful for them, I could tell!) They are all CrossFitters and mostly paleo, and they all loved the cake! Dave isn't a big cake eater and he claims this is one of the best cakes he's ever had. This recipe is a slightly altered version of a recipe from The Food Lovers Primal Palate, a site with some excellent recipes. The frosting is updated from the original recipe I posted a while back. Through a little trial and error, I came up with a nice, fluffy coconut cream frosting that stays stable for several hours at room temperature.  Try mixing some chopped walnuts in with the frosting for a great paleo version of German chocolate cake. Give it a try and let me know what you think!
Cake recipe adapted from The Food Lovers Primal Palate. 
Chocolate Birthday Cake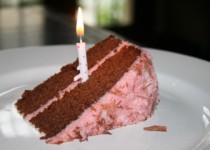 Makes one 9-inch double-layer cake or one 1/4 sheet cake.
Prep Time:

20 minutes

Cook time:

40 minutes

Yield:

16-24 servings
Ingredients:
Preparation:
Preheat oven to 325 degrees F.
Prepare two 9-inch round cake pans by lightly coating with coconut oil. I also added a bit of cocoa powder and gently rotated the pans so that they had a light, even coating of cocoa all around.
Add dry ingredients to a small bowl, stirring with a whisk to combine.
Add wet ingredients to a large bowl, using a hand mixer to blend thoroughly.
Add dry ingredients to wet ingredients and continue mixing for 2 minutes. It may seem like a long time, but it results in an airier cake.
Evenly divide batter between the two prepared pans. The batter will be very thin.
Bake for 30-40 minutes or until a toothpick inserted in the center comes out clean. (Mine cooks in 20 minutes on convenction bake.)
Let cakes cool slightly in the pans, then remove and cool on a wire rack.
NOTE: I left mine in the pans overnight and it was tricky to get them out. If you aren't going to frost until the following day, remove them from the pans and leave covered overnight on parchment paper or wax paper.
Frost with coconut cream frosting.
Assembly
Place first layer upside-down on a cake plate so the flat side is up. Frost.
Place the second layer on top with the rounded side up. Frost the top and sides.
Optionally, sprinkle with shaved dark chocolate or chopped nuts.