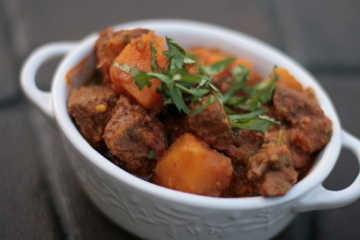 Whenever I see the two-pound packages of organic butternut squash at Costco, I stock up with as much as I can possibly use by the expiration date. Then I spend a little time figuring out new ways to use it. I've always wanted to make a tagine dish, but I was under the impression that I needed a special dish to make it in. Tagine (or tajine) in Moroccan cuisine are slow-cooked stews braised at low temperatures, resulting in tender meat with aromatic vegetables and sauce (from wikipedia.org). Sounds like a crock pot meal to me! When I made this, I browned the beef before adding it to the crock pot. I removed that step from the recipe since, in retrospect, it seems totally unnecessary. This dish had a great combination of flavors and is a nice twist on traditional beef stew.
Crock Pot Beef Tagine with Butternut Squash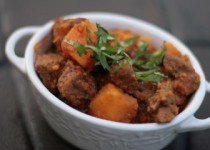 I used top round roast for this recipe because it tends to have less fat that I need to trim, but you can use whatever cut you prefer.
Prep Time:

15 minutes

Cook time:

07h 30min

Yield:

4 servings
Ingredients:
Preparation:
Place cubed meat in a large bowl.
Combine spices in a small bowl.
Pour spices over beef and stir to thoroughly coat meat with spices.
Combine onion, garlic, and beef in crock pot.
Pour tomatoes over mixture.
Cook on low for 5-6 hours or until beef is tender.
Stir in squash and increase heat to high. Cook for about 90 minutes or until squash is tender.
Taste mixture and add more salt and crushed red pepper, as needed.
Stir in cilantro and serve in shallow plates or bowls.
Adapted from myrecipes.com.