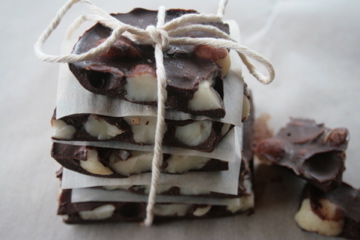 Sometimes I have a craving for chocolate but don't want any sugar. A while back when I was doing a sugar detox, my friend Michael introduced me to Sunspire baking bars as a great 100 percent chocolate bar for munching on. Other chocolate bars I've tried were super bitter, but the Sunpire bars are nice and smooth. I am happy to say that I still enjoy these bars post detox…but sometimes I need a little more. I decided to add my favorite craving squelcher, coconut butter, to sweeten it up a bit. I have a teaspoon of Nutiva Coconut Manna each morning before my early WODs and I love it. In fact, I was surprised it was allowed during a detox or Whole 30 because it tastes perfectly sweet to me. Then I added macadamia nuts and sea salt for good measure. What I ended up with is a yummy treat with no guilt. I could have eaten the whole pan, but I restrained myself to a couple of good-sized chunks. I have also made this recipe with a little bit of unsweetened coconut and some dried unsweetened cherries–delicious. You could definitely substitute your favorite kind of nuts. This has become my new go-to dessert. I hope you enjoy it as much as I do! Store the leftovers, if there are any, in the refrigerator.
No-Cheat Chocolate Macadamia Bark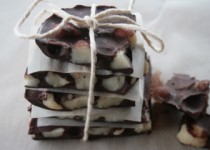 Prep Time:

10 minutes

Cook time:

10 minutes

Allergens: Nuts
Ingredients:
Preparation:
Combine chocolate and coconut butter in a double boiler or a heat-proof bowl set over a pan of boiling water.
Heat until melted and thoroughly combined.
Remove from heat and stir in macadamia nuts.
Line the bottom and sides of a pan with waxed paper. Pour chocolate mixture into the pan.
Sprinkle with salt.
Place in freezer for 45 minutes or until hardened.
Break up the chocolate and enjoy this no-cheat treat!
Store any leftovers in the refrigerator.