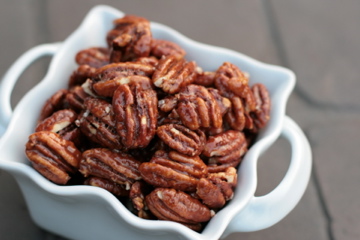 I first had this yummy treat at a book club meeting when my non-paleo friend, Elaine, very thoughtfully researched and made this recipe. When I tasted them, I really thought she was lying that they were paleo. I went home and checked out the recipe to be sure. Sure enough, these are a paleo treat. They contain honey, and so they should be saved for special occasions. And beware, because they are totally addictive. A friend, who shall remain nameless (you know who you are!), was over during Thanksgiving and literally had to be pulled away from the pecans by his wife. They very kindly sent over a pound of pecans later that week to replenish my supply. It was hilarious! And, yes, they will get some of this batch! These pecans stay good for more than a week stored at room temperature. They are a great make-ahead treat for the holidays. I'll definitely be sharing these with some of my paleo friends!
Adapted from paleomama.com.
Paleo Candied Pecans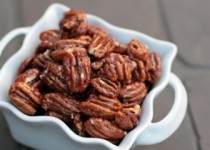 Ingredients:
Preparation:
Preheat oven to 250º F.
Line a shallow, rimmed baking sheet with parchment paper.
Place egg white and water in a large bowl. Stir with a whisk until frothy (think bubble bath).
Add pecans and stir well with a wooden spoon until they are evenly coated.
Combine honey, salt, and cinnamon in a liquid measuring cup. Pour over nuts and stir well to evenly coat.
Transfer pecans to the lined baking sheet. Arrange in a single layer using a rubber spatula.
NOTE: Discard any leftover liquid that may be left in the bowl.
Bake for 60 to 90 minutes, stirring at approximately every 15 minutes.
Remove from oven and immediately transfer to a glass baking dish to cool.
NOTE: It is very important to remove the nuts from the parchment before they cool—they will stick.
Once cool, break into pieces and store in an airtight container at room temperature.