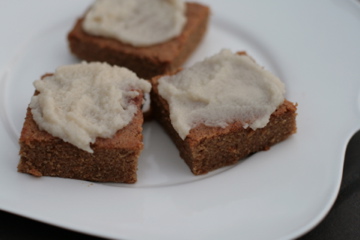 I cooked my first-ever batch of fresh pumpkin a few days ago and have been whittling my way through it making some great fall recipes. This one is delicious! Just the right balance of warm, sweet, and spicy. The cake comes together quickly with the help of pumpkin that's already prepared, whether fresh or in a can. I had some leftover coconut cream frosting in the refrigerator so I put that on top. It is just as good plain though. I made the cake in a 9×9 pan, but you could also pour the batter into a loaf pan or cupcake tins.
Aly really liked these. She had three bars for her after-school snack. Because they have no nuts, I can send them to school with her—a definite plus. Enjoy!
Adapted from www.primal-palate.com.
Pumpkin Spice Cake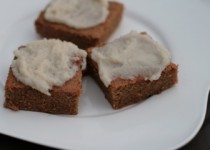 Quickly bring eggs to room temperature by setting them in a bowl of warm tap water. The recipe can be made with either fresh or canned pumpkin.
Prep Time:

15 minutes

Cook time:

30 minutes

Yield:

20 bars
Ingredients:
Preparation:
Preheat oven to 350º F.
Prepare 9x9 cake pan by coating lightly with coconut oil.
Sift the dry ingredients into a medium mixing bowl.
Mix the wet ingredients in a large bowl with a hand mixer, or in a food processor.
Add the dry ingredients to the wet ingredients and mix until well combined.
Pour batter into cake pan. (Batter will be thick.)
NOTE: If batter is thin, add a little more coconut flour, one tablespoon at a time, until it reaches a thicker consistency.
Bake for 25-30 minutes or until toothpick inserted in the center comes out clean.
Let cool before cutting.