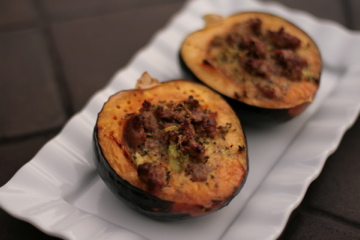 What do you do with leftover egg yolks? I just made a batch of coconut macaroons and had six egg yolks sitting in the fridge. Sure, I could make a huge batch of mayonnaise, but I knew there was probably a better use for my yolks. With the ingredients I had on hand, I knew our dinner would include acorn squash, sausage, and broccoli. The yolks made a perfect base for savory stuffed squash filled with sausage and broccoli. The creamy yolks mixed with coconut milk and spices added a cheesy, creamy element to this dish. I was delicious! Enjoy this yummy savory custard and make some coconut macaroons for dessert!
Acorn Squash with Savory Sausage Custard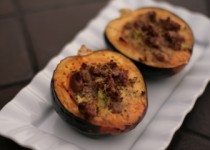 Prep Time:

45 minutes

Cook time:

01h 30min

Yield:

6 Servings
Ingredients:
Preparation:
Preheat oven to 375 degrees F.
Halve squash lengthwise and scoop out the seed and some of the flesh to create a bowl for the filling. Cut a small piece off of the bottom so that the squash cup sits flat on the pan.
Place squash in a large, rimmed baking sheet and rub tops with coconut oil. Cook for 45 minutes or until fork tender. Remove squash from oven.
While squash cooks, brown sausage in a large skillet over medium-high heat. When a little fat is rendered add the onion and garlic and saute until cooked through, about 4-5 minutes. Drain fat and stir in broccoli.
Whisk egg yolks in a medium bowl. Add coconut milk and spices and whisk to combine.
Scoop sausage mixture into prepared squash bowls.
Ladle custard over sausage mixture a little at a time until it seeps into the mixture.
Bake for an additional 4o minutes or until top is brown and bubbly.