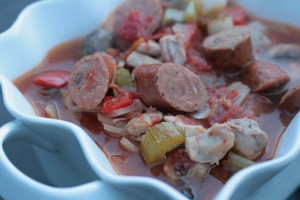 When the kids asked me what was for dinner tonight, I replied, "Chicken and sausage gumbo."  To which Aly responded, "Yum!" Yes. I was floored. I don't think she's ever even tasted gumbo. I have a feeling her gumbo association is with the Disney movie Princess and the Frog. But I'll take it and hope that she'll actually partake when the time comes.
Gumbo is a perfect meal to prepare in a crock pot. Once you have all of the chopping done, just put everything in the crock pot and enjoy  your day. This recipe veers a little from the traditional. I added mushrooms and skipped the okra. I also thickened the gumbo by pureeing some of the cooked vegetable and broth, skipping the flour and bacon-fat roux altogether. Next time, I might puree a little more of the veggie/broth combo. The flavor of this was perfect—just the right amount of spice.
Cook the cauliflower rice in the microwave for a quick accompaniment.
Adapted from Williams-Sonoma Slow Cooker Food Made Fast.
Chicken and Sausage Gumbo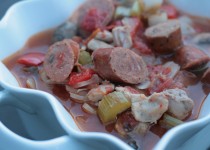 Prep Time:

30 minutes

Cook time:

04h 00min

Yield:

4-6 servings
Ingredients:
Preparation:
Warm oil in a large skillet over medium-high heat. Place chicken pieces in the skillet and brown on all sides, about 8 minutes total. Transfer to crock pot.

Place all remaining ingredients, except for cauliflower, in the crock pot and stir to combine.

Cook on high for 4 hours or on low for 8 hours.

Scoop one cup of broth out using a liquid measure or ladle. Reserve for another use. 

Ladle 1 cup of veggies from the crock pot, then pour just enough broth over them to cover. Blend with a stick blender or in a food processor until smooth. Return puree to the pot and stir to combine. Taste and season with additional salt and cayenne, if desired.

Pulse cauliflower in a food processor until it is a rice-like consistency. Place in a microwave-safe bowl and cover with a plate. Cook on high for 3-4 minutes or until the cauliflower is cooked.

To serve, spoon cauliflower rice into bowls and top with a healthy serving of gumbo.